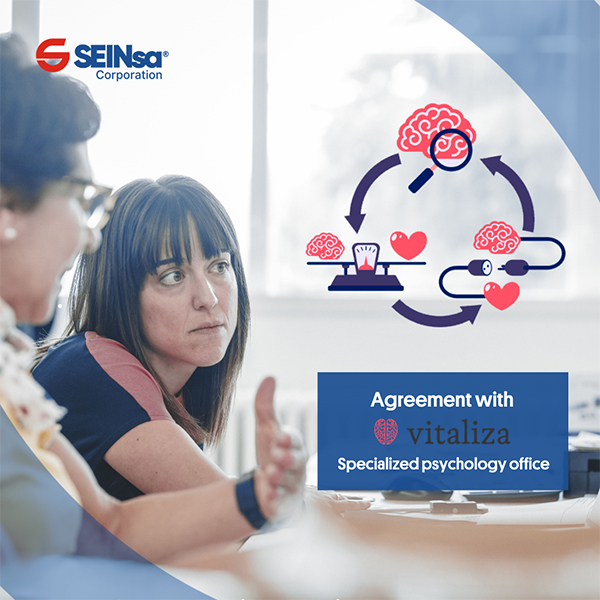 20 / 04 / 2021
Agreement with "Vitaliza", specialized psychology office
The whole staff from SEINSA Corporation formed by more than 300 workers located in the four production plants in Navarra and India, will have free psychological care services, therapies and professional treatments, to combat the possible effects of the pandemic and improve their health.
The measure has been launched this April and will continue throughout the year 2021. The company, recognized as the most innovative of the year by Innobasque, prepares a global expansion plan and bases its growth "on the development of people" and their training.
In Spain, 6.7% of the country's population is affected by anxiety, according to data from the Ministry of Health, a percentage that has skyrocketed in the last year. The COVID19 pandemic has caused profound changes, causing people to face stressful and overwhelming challenges on a daily basis. In order to prevent the wave of anxiety and sadness from affecting its own workers, SEINSA Corporation has decided to launch a health program focused on the most vulnerable aspect: the emotional.
SEINSA Corporation is aware that its growth forecast of 40% in the next three years, passes through the well-being of the people in the production process. "Our people are the beginning and the end of our growth and expansion plans. This pandemic has brought a lot of suffering and we will contribute to transform it into experiences to keep going forward with our professional and personal growth. Often, companionship and support is what is needed and is what we put with our team. Nobody is left behind ", states Mikel Azcárate, Director of Strategic Development and New Businesss at SEINSA Corporation.
To carry out this Health Plan, SEINSA has signed an agreement with Vitaliza, the prestigious specialized psychology office, led by doctors Javier Elcarte and Cristina Cortés. The therapies and care will be carried out virtually.
SEINSA, recognized for its exemplary management model, believes that "the engine of growth is people and their key emotional and affective state" to step on the accelerator of any company. The Group from Navarra has been faithful throughout these 50 years to the motto coined by its founder, José Antonio Azcárate: "Our people, our success".
Related news
SEINSA Corporation has been the winner of the II Arizmendiarrieta Saria Award in Navarra, which recognises the application of…
On Monday 25th April, Seinsa Corporation's management and staff celebrated the 50th anniversary of its founding in 1972 with an…