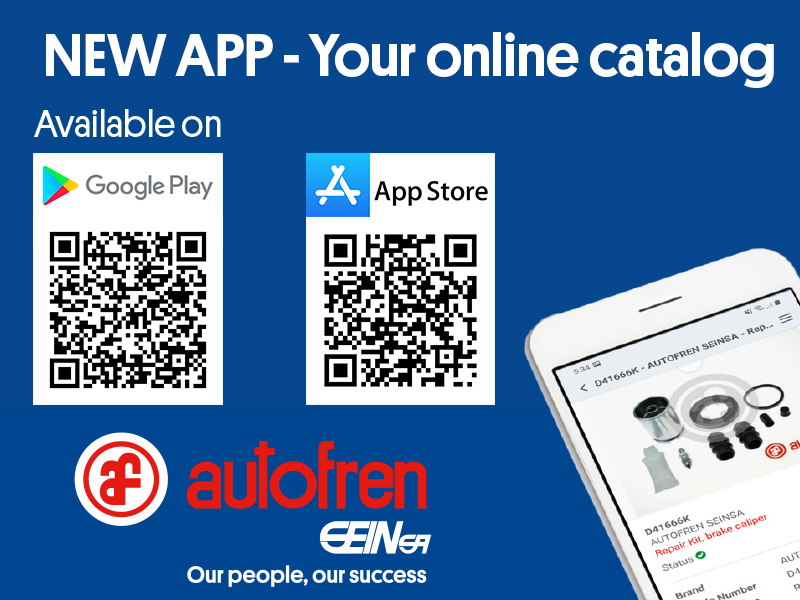 04 / 05 / 2021
New APP - Your online catalog
Available on:
AUTOFREN SEINSA App is a search engine that will assist you to find the repair kit you need for your vehicle.

You will be able to identify all AUTOFREN SEINSA
products with different search systems:

- Search by Product: You can find the repair kit number by directly entering any AUTOFREN SEINSA reference, OE reference or another brand reference. In this option you can also scan the barcode of the AUTOFREN SEINSA product with your device and access its information sheet.

- Vehicle Search: You can use this option to search by vehicle and see all the AUTOFREN SEINSA repair kits available for it.
With the new AUTOFREN SEINSA App you can be updated about our products and new developments, whether you are a professional or not:
- Description of the article, status, characteristics.
- OE references
- Applications
- Image
- Videos: Manufacturing process & Quality Control, How to repair...?
- Information brochures: Products, Failures and kit to repair it...
- News

All this information, updated monthly, will help you identify the repair kit you need with accuracy.
You have everything you need in your pocket!
With our NEW APP, find the most suitable repair kit for your vehicle.
Related news
SEINSA Corporation has been the winner of the II Arizmendiarrieta Saria Award in Navarra, which recognises the application of…
On Monday 25th April, Seinsa Corporation's management and staff celebrated the 50th anniversary of its founding in 1972 with an…